Responding to dialog boxes
Some of your communication with your computer system is done by responding to dialog boxes, which are pop-up windows that contain instructions, options, or information.

If you are instructed to enter text, type the information in the space provided, known as a field. You can also enter an icon's label into a dialog box field by dropping the icon onto that field.

To choose from a list of options in a dialog box, click the onscreen button next to the option desired. There are different types of onscreen buttons: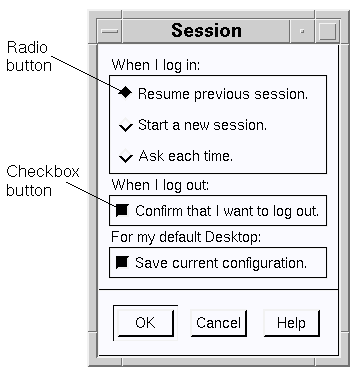 Onscreen Buttons
Radio buttons are used to select one of a group of options. If you have selected one radio button and then click on another one in that group, the first button is automatically toggled off.

Checkboxes are used to select one, more than one, or none of a group of options. Each checkbox toggles between selected and unselected.

The following large buttons are seen frequently and always initiate the same actions:

OK accepts any changes you made, closes the window, and initiates the appropriate action. In a message dialog box, click on OK to indicate you understand the message.

Cancel undoes any changes you made and closes the window.

Help displays information about the options given in the dialog box or about the client running in the active window.
Some dialog boxes contain error messages, which notify you of a problem that must be corrected before you can proceed with the corresponding activity. For more information, see ``Responding to error messages''.
---
© 2005 The SCO Group, Inc. All rights reserved.
SCO OpenServer Release 6.0.0 -- 26 May 2005