Using Treeview
The filesystem hierarchy can be viewed as a tree, with the subdirectories "branching out" from the top level directories. You can see this structure graphically by selecting the Tree menu item from the File menu in a directory window.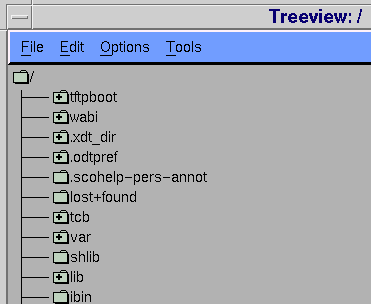 Treeview
The Tree dialog box shows you the pathname of your current directory. After you click on OK, the Treeview window opens to display your current directory and subdirectories in a graphical representation of their relationship. The current directory forms the top of the "tree," with the subdirectories shown as "branches" below on the "trunk."
Treeview is useful for examining a selected part of your filesystem. For example, suppose you are viewing a very large filesystem, and you only want to see the Mail directory and its subdirectories. To do so:
Select the desired directory "branch" by clicking on its name, which in this example is Mail.

Select Grow Branch from the File menu in the Treeview window to view only the subdirectories one level below Mail, or select Fully Grow Branch to expand your view to all the subdirectories within Mail.

If you want to display only certain subdirectories, remove the extraneous ones by selecting them, then choosing Prune Branch.
---
© 2005 The SCO Group, Inc. All rights reserved.
SCO OpenServer Release 6.0.0 -- 26 May 2005